We offer a well-equipped essential physiotherapy and fitness department in-house. Apart from providing pain relief related physio needs of women through all life stages and pelvic floor rehab, our specialized fitness packages include antenatal and postnatal classes and teenage obese PCOS weight management and weight reduction classes for obese women.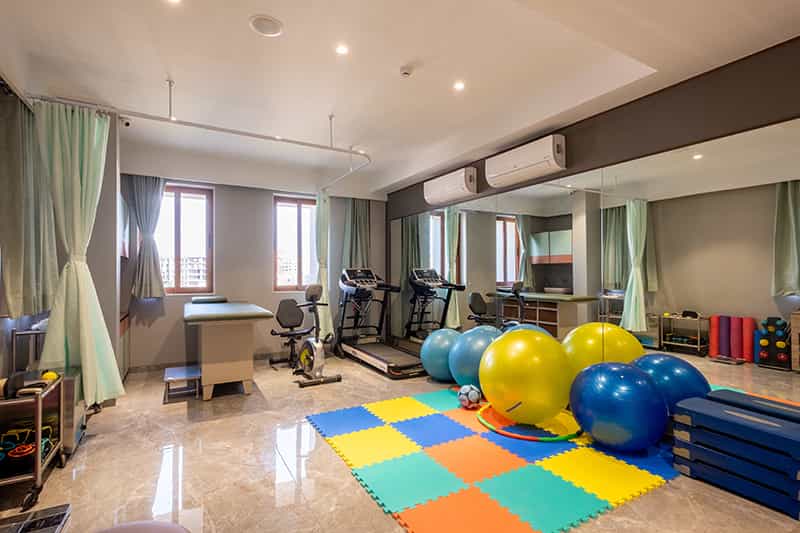 Weight Loss Physiotherapy
Most men and women consider physiotherapy as a means of aiding healing post an injury. Still, apart from helping you to recover, physiotherapy can help you achieve your desired weight loss. At Rupal Hospital, our Physiotherapist work to develop an individualized
physical activity program, making sure your objectives are satisfied, providing complete weight loss management solution.
Antenatal Fitness Classes
Pregnancy and childbirth can bring immense joy, but a pregnant woman's body goes through tremendous changes that can notably affect her day-to-day life. In a relatively short period, the organs' pressure rises, and increased weight is carried. While some uneasiness is expected, the discomfort can get overwhelming. At Rupal Hospital, we offer short term and long term antenatal pregnancy classes. In these classes, our physiotherapist educates women on the importance of adopting healthy lifestyle interventions, which include exercise, yoga, posture training, gharbhasanskar, breathing exercises, etc. We have special couple sessions to increase bonding between mom and dad and reduce their anxiety level during the most delicate time of their life.
Postnatal Fitness Classes
Our Postnatal fitness classes encourage you to start a few exercises as soon as possible after delivery. It gives you more information on how to look after yourself and what you need to be careful of. The exercises conducted during a PNC are safe; they will help you recover, allow you to reduce your post-pregnancy weight gain, and make you feel good about yourself. The physiotherapist in charge of you will carry the exercises forward with gradual progressions.
Pelvic Floor Rehabilitation
Problems that affect the pelvic floor include incontinence, leaking, and pelvic organ prolapse. Pelvic floor dysfunction is heavily under-reported, as so many people don't feel comfortable speaking up about it. The goal of a Pelvic Floor Physiotherapist is to improve pelvic floor function through exercises, lifestyle modifications, education, and hands-on treatment to decrease and eliminate your symptoms. This therapy involves assessing and treating a group of muscles involved with urinary, bowel, and sexual function.
Lactation Rehabilitation
Breastfeeding is a learned skill. While it's a joyful experience, it often does not come naturally. Up to 49 percent of women have trouble breastfeeding on the day of delivery. Physiotherapy plays a vital role in the education of posture and positioning during breastfeeding and provides information and treatment of conditions that new mothers may experience. "Breastfeeding is a matter of concern because it has such a wide range of often under-appreciated consequences."
Our highly qualified and experienced physiotherapist Dr. Bijal Gandhi is a qualified lactation consultant and runs the first lactation clinic in Surat. This clinic assists young mothers who are having problems with feeding their children.