Introducing First time in South Gujarat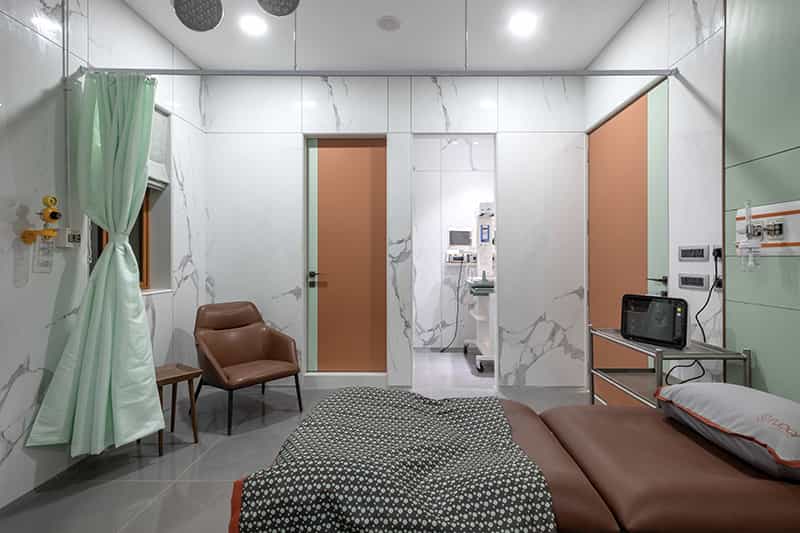 Birthing Suite
Our birthing suite is a result of an in-depth thought process to deliver the safest experience and the best ambiance on the most important day of your life. It is well equipped with the most efficient medical facilities to monitor you and your baby carefully. To name a few are the multi-positioning motorized delivery bed that adjusts to accommodate various birthing positions, cordless fetal monitoring, central oxygen supply, and cardiac monitor. To have a positive distraction from labor pain, you can enjoy a movie or delivery demonstration videos. You can also customize the ambiance with a selection of your favorite music tracks to further heighten a sense of peace and calm.
Dad - The Birth Companion
Dads are acutely aware that birth opens the door to their new life as a parent. Though it's a joyful occasion, childbirth comes with immense stress. But when the mother is waiting for the fascinating moment, the presence of her loved one brings in much comfort and relief. We have taken care of this simple yet important aspect while designing our birthing suite.
Bubble Baby Spa
Bathing your baby is an excellent time to bond, as your tiny new family member enjoys the sensation of warm water on his/her skin. Yet this common parenting ritual often comes with questions, and sometimes anxiety, about when and how to do it well. So we are here with the new concept of "Baby Spa" room, where our trained staff will give you a demonstration on an individual basis about baby bathing and gentle massage. We are sure this is going to be especially beneficial to you at home in this COVID 19 times when you are still not comfortable to allow a professional massager lady at your home.
The Milky Care
Breastfeeding is warmth, nutrition, and love all rolled into one. Breastfeeding plays a crucial role in your baby's health, growth, and development and has benefits for you. To successfully feed your baby, you need special counseling, support, and reassurance. The certified lactation consultant at our lactation management clinic will Provide you authentic information and will demonstrate breastfeeding techniques and will solve all your queries related to this greatest gift from you to your baby.
FAQs
What services are included in obstetrics at Rupal Hospital?
Rupal hospital has an incredible team of most friendly doctors, with expertise in pregnancy, antenatal care and childbirth, antenatal sonography and fetal medicine, nutrition, antenatal exercises, physiotherapy, and our well trained and experienced nursing staff provides you with comprehensive prenatal care to postnatal care. We are also supported by state-of-the-art NICU infrastructure.
We make every effort to ensure your comfort and safety in our fully equipped delivery suite and state of the art monitoring types of equipment and a birthing bed.
When should I start consulting an obstetrician?
Most women meet with their obstetrician for the first time approximately 6 weeks after their last menstrual period. At your first appointment, we will confirm your pregnancy and perform an exam to measure your overall health and wellness. We may perform an ultrasound if you're unsure how far along you are in your pregnancy or have early pregnancy bleeding or lower abdominal pain. You will be advised to undergo necessary antenatal blood tests.
Typically, you'll have prenatal appointments once every four weeks for the first 28 weeks of pregnancy, then every other week from 28 weeks to 36 weeks. You'll have weekly check-ups for your final weeks of pregnancy until your baby is born.
Your routine ultrasonography schedule
At 11-13 weeks (Genetic scan plus double markers).
At 18-22 weeks (Anomaly scan-3D/4D sonography).
At 34-36 weeks (Growth scan).
If your pregnancy is classified as high-risk, you'll have more frequent
appointments.
What does high-risk pregnancy mean?
High-risk pregnancies are those where there is an increased chance of a health problem for you or your baby. You have more frequent appointments and a few extra tests so we can keep a close eye on your and your baby's health. Our obstetrician's team is experienced and expert in providing obstetric care for normal, low-risk pregnancy and all high-risk pregnancy issues.
High-risk pregnancies include:
Twins or multiple babies.
Mother over the age of 35.
Existing health conditions like diabetes, thyroid, high blood pressure, or other medical condition.
An overweight or obese mother.
Previous history of repeated pregnancy losses or pregnancy complications.
What is a painless delivery?
Becoming a mother is the start of a wonderful journey. However, the crossing over often involves an excruciatingly painful birthing process. Painless delivery or 'Epidural Analgesia' is nothing but an option for normal delivery.
Epidural anesthesia is administered through an injection on the lower back of the mother. The drug takes about 10-15 minutes to take effect. This is a good option for women with a lower pain-bearing capacity, who would otherwise opt for a C-section.
At our hospital, the process of childbirth can be made most comfortable, smooth painless by using epidural anesthesia by our highly experienced anesthesia team.
Do you have Stemcell banking collection facilities at Rupal Hospital?
Yes